29 October, 2023
Advocacy continues in ACT
MOYNE Shire's advocacy agenda continued last week, with mayor Karen Foster and CEO Brett Davis holding meetings with key federal government stakeholders in the national capital.
By Staff Writer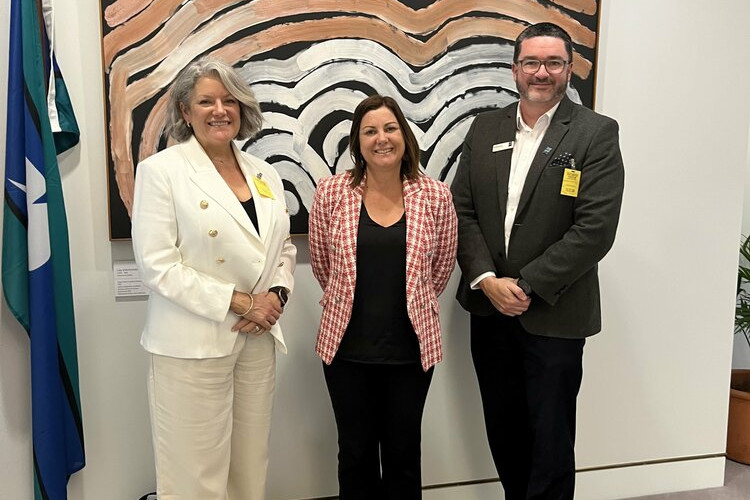 Meetings were held with Minister for Regional Development, Local Government and Territories Kristy McBain, Member for Wannon Dan Tehan and senior advisers to Minister for Energy and Climate Change Chris Bowen and Minister for Agriculture Murray Watt. Cr Foster said it was a productive day with plenty of important discussions taking place.
"We have a clear advocacy agenda at Moyne and we took the opportunity to keep those priorities at the front of mind of ministers and their advisers," she said. 
"Key projects like the Koroit Township Renewal, our worker cabins and other facility and infrastructure upgrades were all discussed as well as the impact of renewable energy and the need for a better deal for our communities. 
"We invited each minister to visit Moyne in the future and felt we had a positive response to our priorities and our concerns. We would also like to thank Dan Tehan and his team for hosting us for the day." 
Cr Foster said the Canberra trip followed the previous week's Municipal Association of Victoria State Council, where Moyne Shire successfully moved three motions. 
The motions related to the undergrounding of new transmission infrastructure, calling on the state government to reinstate a road funding program to assist local government and establishing a set of community investment standards for renewable developments. 
"These are all key issues for our community and communities across Victoria, so we put forward these motions asking for them to be included in MAVs advocacy to government," she said. 
"I'm pleased to say they were all supported." 
Cr Foster believes the roads issue is important.
"The former Coalition Government had a program called Country Roads and Bridges which was then altered to become the Fixing Country Roads program under the current Labor Government," Cr Foster said.
"Those funds allowed local governments to apply for funding to support works on our local road improvement programs, but when that funding was exhausted in 2019 the program wasn't reinstated." 
Cr Foster called on the government to make a similar program available again, especially in a rate capped environment "so we can make more headway on our local road network." 
Cr Foster said letters had also been sent to new Victorian Premier Jacinta Allan and new ministers inviting them to visit Moyne Shire. 
Most Popular