9 June, 2023
All roads lead to Port
THE Port Fairy Winter Weekends series kicks off this long weekend, with a host of activities and events planned.
By Staff Writer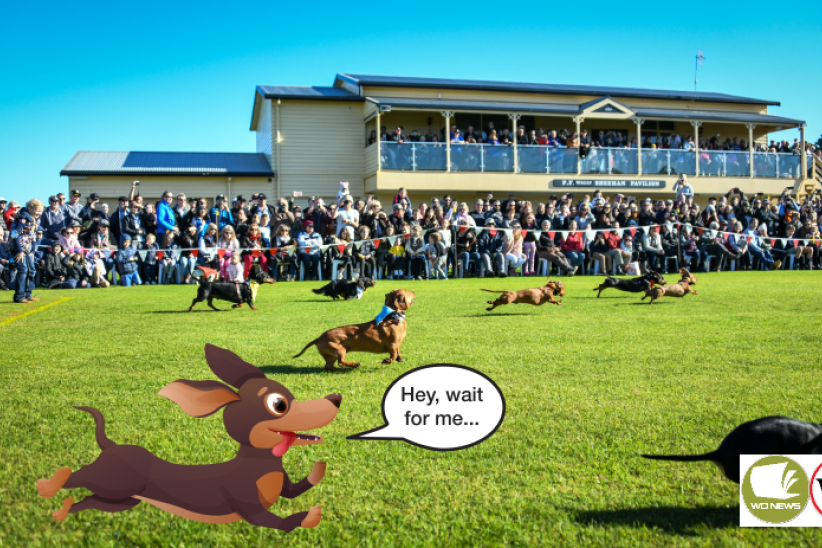 The winter weekends program is a celebration of the town's history, culture and community over a series of weekends throughout June and July. 
Port Fairy is known for its wintery crisp mornings, beautiful downpours and moody weather during the winter months, and this festival is here to embrace it. 
Traditionally spanning four weekends, with a fresh approach in 2023 it will cover three weekends to allow for a bigger impact. 
The festival will have visitors eating, drinking, creating, making and dancing their way through this weekend.
No doubt the much talked about dachshund dash will be one of the highlights of this weekend's program, with our short-legged friends battling it out for the biggest crown on the competitive small dog circuit – so make sure you're at the football oval at 2pm on Saturday to watch all the action.
Immerse yourself in the thrill of 100 canines dashing, leaping or sniffing their way to the finish line.
Cheer the scurrying runners – most with more heart than sense of direction – as they race to win the title of top dog.
With an organising committee consisting of faces old and new, all bringing with them a renewed approach and new vision, this festival is bringing the winter heat and celebrating all that is spectacular in this small part of the world that packs a big punch. 
Festival coordinator Ali Kavanagh is leading the charge and is excited to see the events unfold this weekend.
"Port Fairy Winter Weekends has been a stalwart in the festival calendar in the region for many years," she said.
"I'm so proud to be part of this strong team where, collectively, we work towards highlighting every inch of what makes this part of the world so rare and beautiful."
An exciting new addition to this year's festival is the 'Winter Hub.' Nestled between Luone Jewellery and Railway Place on Bank Street is an open green space that will play host as the central festival arena.
A big-top tent will take centre-stage and house epic musical events, drinks and get-togethers over the course of the festival weekends.
This weekend is jam-packed full of entertainment, colour and activities for all ages, kicking off with a festival opening party between 6pm and 10.30pm at various venues across the town.
Visitors can embrace the winter weather with friends, family, warm drinks, street food and music from local DJ Naomy and other special guests.
Gunditjmara-Maar Nations traditional owners will hold a smoking ceremony and welcome to country before visitors can stroll down to the Moyne for a riverside of colour and light.
Throughout the weekend, the port buildings and surrounding grounds will be transformed in a vivid play of colour, shadow and light.
For a gold coin entry, visitors can browse the 'Queen Consort Market at Littlebank' (51 Sackville Street) each day between 10am and 4pm.
There you will find a treasure trove of goodies including furniture, soft furnishings, lighting, re-spin sound systems, Prehistoric Sound records, tarot reading, fresh cut flowers and much more.
Lost and Lonesome are excited to warm up this winter and celebrate with a stacked line-up of talent between 4.30pm and 10pm on Saturday June 10 (venue to be confirmed).
One of the region's most loved annual markets, MADE, will run from 9am-2pm on Saturday at St John's Church Hall in Barclay Street. 
There you will find a mix of handmade art, craft and design from established and emerging makers, while a Young Makers market will be held at the Port Fairy Sea Scout Hall in Bank Street.
Children between the ages of eight and 18 years can laugh their way through an acro yoga session from 10am-11am on Saturday, June 10.
The session will start with personal, partner and group challenges involving balance, strength and focus, before things slow down for a quiet and still final relaxation.
Ghost tours are back for those who love a spooky good time (not recommended for children). Visit the graves of the historical people featured in the Port Fairy Ghost Stories book.
The tour will start at 4pm on the Saturday of the long weekend and will cost $15 per person (no bookings required just turn up at the cemetery gates).
Capping off a great day, head to the Lecture Hall in Sackville Street on Saturday June 10 for an evening of music to officially launch the 2024 Port Fairy Folk Festival.
Following on from this weekend's activities, the remaining two 'winter weekends' will be held on Friday, June 23-Sunday, June 25, and Friday, July 7-Sunday July 9. 7-Sunday July 9.
Most Popular