22 July, 2023
Awards night for brigade
DARREN Herpich has been named Firefighter of the Year for the Warrnambool Fire Brigade.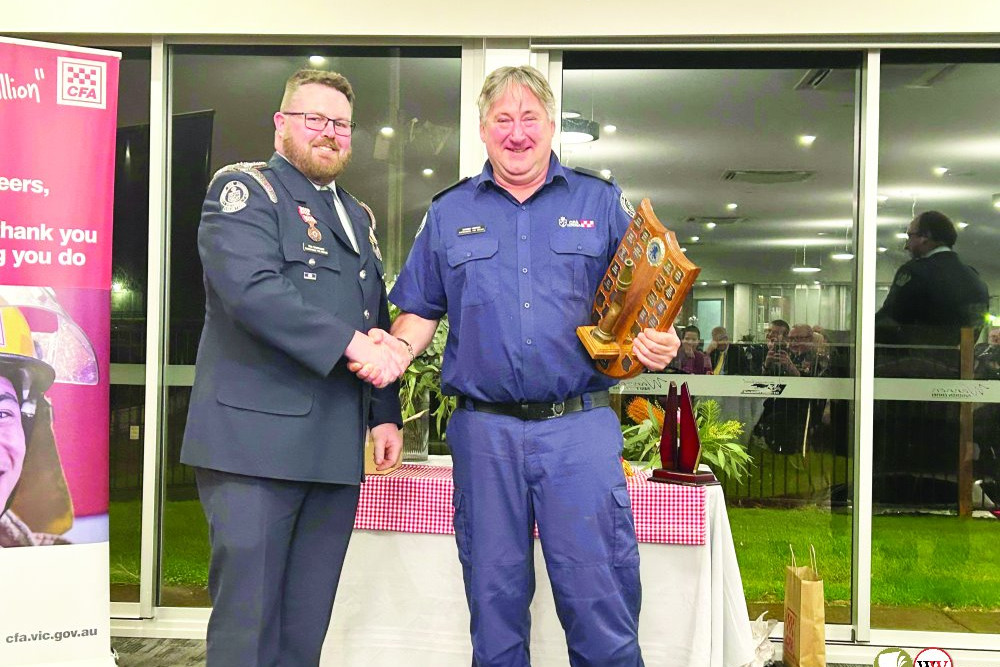 He was presented with the award (which is given to a member who shows great dedication and commitment to the brigade over the previous 12 months while maintaining a good life balance) during the brigade's annual dinner and awards night last weekend. 
A large group of brigade members, partners and special guests enjoyed Saturday night's event at the Wannon Rooms. 
The crowd of almost 100 included several members from neighbouring brigades who gathered to celebrate and recognise the efforts of volunteers. Among the highlights of the night was the presentation of a National Medal to Warrnambool brigade member Aaron Huttig. 
The medal is awarded to personnel in Australia's emergency services and recognises at least 15 years' diligent, long service to the community. 
A CFA life membership, which represents more than 30 years' service, was presented to Wayne Rooke while Stephen Lane was awarded a Warrnambool Fire Brigade life membership. 
The Malcolm Fallon Encouragement Award went to Mat Wale while several members were recognised for their years of service, ranging from 10 years to upwards of 55 years. 
Congratulations to the following service award recipients – Maxwell Smart (55 years), Barry Smith (40 years), Carolyn Bishop (15 years), Mitch Williams (10 years) and Johnnie McCarthy (10 years). 
Another highlight of the evening was the presentation of a much-appreciated cheque for $10,000 from the brigade auxiliary to captain Tom Woodhams. 
The money will be used towards the brigade's new breathing apparatus (BA) support vehicle currently being built. 
Once online, this vehicle will be an asset to the entire south west region. This year marks the brigade's 160th year of service to the Warrnambool community. 
Over the past 12 months the brigade was paged and responded to 136 incidents which included supporting Fire Rescue Victoria Station 70 to calls in the City of Warrnambool, along with calls to support other brigades, SES and Victoria Police with the Warrnambool brigade's specialised equipment. 
This equipment includes a BA Support vehicle, ground intelligence and mobile communications vehicles. 
Most Popular