17 November, 2023
Beach Patrol targets Lake Pertobe
THE lake circuit walk at the back of Lake Pertobe now looks a little cleaner thanks to the efforts of a group of volunteers.
By Staff Writer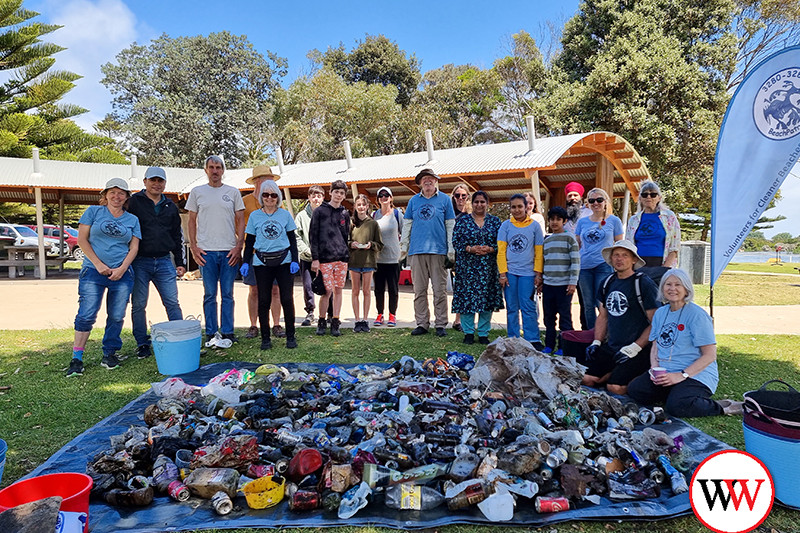 In just under an hour on Saturday, 24 volunteers collected 66 kilograms of rubbish – 2,873 items – from the small creek. 
The clean-up, labelled 'Dirty Warrny' was organised by the Beach Patrol group. "We named the clean-up Dirty Warrny as it happened to coincide with the Dirty Warrny bike riding event that ran on Saturday and we believe such an act of rubbishing is also dirty," Beach Patrol coordinator Colleen Hughson said. 
Despite the commendable efforts of the volunteers, the extent of the challenge soon became apparent. 
"The team retrieved 66kg of rubbish yet it was evident that a more extensive clean-up effort, with additional manpower and time, was essential to make a lasting impact," Ms Hughson said.
Participants were encouraged to take their makeshift pool scoops to collect hard-to-reach rubbish from the creek. 
 The collected debris included 130 plastic drink bottles, 184 drink cans, and 54 glass bottles, primarily alcoholic. 
Concerns were raised about the environmental impact of these items, with a particular emphasis on the potential release of toxic chemicals as the bottles degrade in waterways. 
"A significant contributor to the pollution issue is the lack of a litter screen on the Gillies Street stormwater outlet (south of History House)," Ms Hughson said. 
"This allows accumulated rubbish from city streets to flow directly into the drainage creek, posing a threat to the habitat of numerous water bird species inhabiting Lake Pertobe. 
"Lake Pertobe, a crucial ecological area, hosts a diverse range of bird species, including migratory birds from the northern hemisphere." 
According to Ms Hughson, the 'Birds of Lake Pertobe' pamphlet identifies 109 bird types regularly seen in the area, such as the common greenshank, Latham's snipe, and the marsh sandpiper. 
Ms Hughson emphasised the importance of the chosen clean-up area and thanked the volunteers for their efforts. 
Beach Patrol is calling for community support in its ongoing efforts and is advocating for the installation of a litter screen at the Gillies Street drain outlet to prevent further contamination of Lake Pertobe. 
Anyone wishing to join the group can contact Colleen Hughson via beachpatrol3280@gmail.com
Most Popular