20 April, 2023
Cancer battle inspires Katie
FORMER Mother's Day Classic committee member Katie Monigatti has returned to the role in 2023, and taken on a new position as Warrnambool's ambassador.
By Staff Writer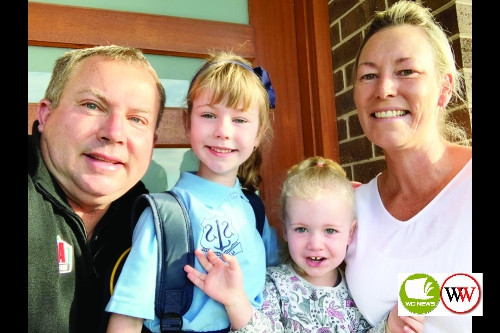 Mrs Monigatti had been on the committee for three years from 2012 after her mother and grandmother had been through cancer battles, but now she is sharing her own cancer experience as the 2023 classic's ambassador. 
Mrs Monigatti was diagnosed with breast cancer in November 2020 and has successfully undergone treatment. The 2023 Mother's Day Classic will continue her commitment to advocating for breast cancer care and research. 
Over the past 12 months she has done several breast cancer talks and flew to Sydney with the McGrath Foundation for the Pink Test with local breast care nurse Bec Hayes. 
"I've been an open-book with my experience; I'll happily share all scars and emotions," Mrs Monigatti said. 
"My mum and grandmother both had bouts with cancer so I knew it was inevitable that one day it could hit me; I just didn't think I'd be 39-years-old with a three-year-old and a four-month-old." 
Now with the all-clear from cancer, Mrs Monigatti is determined to share her personal perspective to create awareness for vital research funds. 
"All the organisations link in but have their own agendas whether it's to enhance breast cancer treatments or advocate and provide support for patients diagnosed," she said. 
"The Mother's Day Classic is important to me because the funds raised go directly to research with the National Breast Cancer Foundation. 
"Neither myself, mother nor grandmother carry a common gene for breast cancer and we all had different types of cancers. 
 "Mine was an extremely aggressive form called Triple Negative so it grew quickly which is probably why I noticed it, but there was no genetic linkage, which is why we need to continue research to prevent it for future generations." 
Mrs Monigatti's husband Kelvin and daughters Adeline and Eloise will also take part in the walk. 
Previous ambassadors were the Hintum family (2015), Leah McNeil (2017), Anne McGrath (2018) and Deanne Evans (2019). 
The Warrnambool Mother's Day Classic will be held on Sunday, May 14, starting from the carnival site in Pertobe Road at 9am for the 7km run and 9.05am for the 3km walk. 
People can enter online via https://www.mothersdayclassic.com.au/vic-warrnambool or on-the-day registrations are available from 8am. 
Most Popular