26 May, 2023
CFA calls for volunteers
WHETHER you prefer to work quietly behind the scenes, or out where the action is, being a volunteer is one of the most rewarding and selfless ways to give back to your community.
By Staff Writer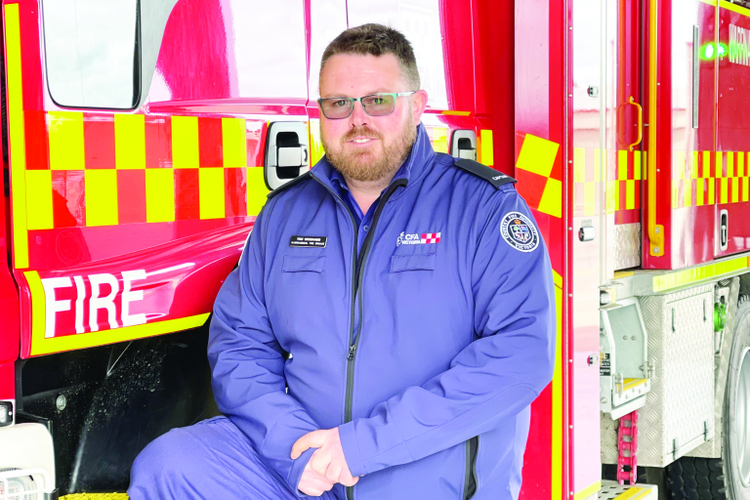 Volunteers are the heart of any community. They give countless unpaid hours in an endless variety of ways, through many clubs, groups, charities and other organisations. 
This month, the Country Fire Authority (CFA) is asking regional Victorians to 'Give Us a Hand' in an effort to recruit new volunteers to join its 52,000 community-minded members in protecting lives and property across the state. 
The call out is part of a new volunteer recruitment campaign which aims to encourage selfless Victorians to take up a firefighting or support role with their local CFA brigade. 
Whether you're looking to make the most of your spare time, are new to your community, or just want to be part of a group of like-minded people, CFA brigades have flexible volunteering arrangements and diverse roles to suit anyone's skills and needs. Warrnambool CFA captain Tom Woodhams has this week urged locals to get behind the brigade and become a volunteer. 
"There are many roles to fill within the CFA; it's not just about being on the ground fighting fires," Tom said. 
"Since this new facility opened on Mortlake Road back in 2016, we have been co-located with Fire Rescue Victoria which works well. 
"Today we have about 33 volunteers on our books and from that about 15-17 are active members. We would love to see this number grow and welcome new volunteers." 
Career firefighters at the station, of which there are about 50 or so, currently operate around the clock with 10-member shifts, attending around 600 call-outs per year. Because of the level of full-time staff at the Warrnambool station, there has been a slight reduction in the demands placed on volunteers, however, it is all about making full use of the commitment of those who give back to their community. 
"Becoming a volunteer, whether that be through the CFA or any other local club, group or organisation is so rewarding," Tom said. "We hold weekly meetings and training sessions and along with fire and other emergency call-outs we also support other brigades and fundraise to ensure we have the equipment that not only we need, but so we can support others in the district." 
The brigade's fundraising efforts for equipment includes fire hose maintenance and servicing in the southern half of district five, and a fire extinguisher maintenance and servicing business. The brigade recently contributed $135,000 towards a new truck which should arrive in the coming weeks. 
"We have a mobile communications vehicle (one of only three in the state), two tankers and a well-equipped BA (breathing apparatus) trailer. "We have all the gear, and are in a great financial position, we would just love to have more active volunteers within the brigade." 
A recruitment drive just before COVID hit the state saw almost a dozen locals go through the recruitment course; of those, four finished the course – but two have since moved interstate. "We would love to hold another recruitment course and to also get local kids involved in our junior development program which is aimed at 11 to 16 year olds." 
The junior program involves a range of fun learning activities at the station, which also leads to participation in the CFA junior competitions over summer. "We would love to see new faces at the brigade and welcome men, women and children to participate in our various programs," Tom said. 
There is currently more than 1200 CFA brigades across Victoria, responding to a range of emergency incidents and serving communities every day. From high angle rescues, structure, grass and scrub fires to hazmat and road crash rescues, no two days are the same. CFA chief officer Jason Heffernan believes the CFA is a great place to volunteer, meet new people and learn new skills. 
 "Volunteers are the backbone of the firefighting and emergency response network across Victoria," he said. 
"We are calling on all community-minded individuals who are looking for a new challenge to consider joining their local brigade and apply their expertise and knowledge to CFA. 
"Whether you want to jump on the truck and respond to incidents, or take up a brigade support position, we'll find a role that suits you and your brigade." 
 Brigades are most commonly looking for people from all backgrounds who have the capacity to take up roles as daytime responders and are particularly interested in hearing from young people who want to make a difference within their community. 
"The rewards of being a CFA volunteer are immeasurable and our members make a real difference in their communities," chief officer Heffernan said. Anyone interested in joining or learning more can visit www.cfa.vic.gov.au/volunteer. 
 Once you've submitted your expression of interest form online, your local brigade will contact you regarding the next steps. Alternatively, contact Warrnambool brigade Captain Tom Woodhams on 0406 778 692 or secretary Aaron Huttig on 0434 053 465. 
Most Popular