11 September, 2023
Children's author at Port library
INSPIRED by her childhood adventures in the south west, author Andrea Rowe is in the midst of a whirlwind homecoming.
By Staff Writer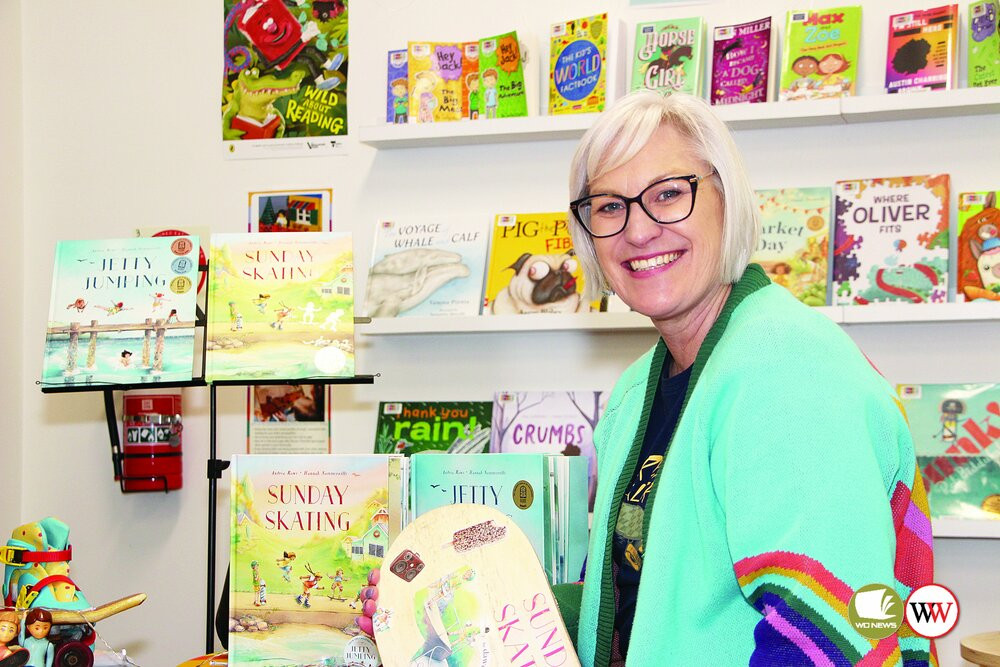 The award-winning children's author was born and raised in Mortlake before spending her formative years of primary education in Warrnambool and Port Fairy. 
She was back in the region this week to celebrate the launch of her latest book, Sunday Skating. 

Ms Rowe spent Wednesday hosting readings and signings in Koroit and Warrnambool before preparing for a free community event in Port Fairy this weekend. Ms Rowe, who now lives in the Mornington Peninsula, said there was no place like home. 
"We all have a place we go back to," she said. "The moment I see the stony rises, I know I'm heading home." 
Ms Rowe said she was excited to bring the launch of Sunday Skating to the south west as the book, much as with most of her writing, was based on experiences she had growing up in the region. 
The first book in the series, Jetty Jumping, encompassed the "pivotal memory" of hanging out at wharfs and jetties in costal communities. 
 Sunday Skating follows on with the same feelings of youthful freedoms enjoyed in rural communities; which she said was inspired by the story of her childhood. 
"I love coming back to my childhood because I have such visceral memories of first-time experiences," Ms Rowe said. "It's interesting how this area, and growing up, has informed so much of my writing. 
"I've begun work on a third book in the series which taps in to making cubby houses and forts in the bush. Lots of my books engage with kids in the outdoors, doing their thing, being in charge of making their decisions and having their own agency. I think that comes back to growing up in the south west; we were free to roam and kids still have that to a degree in regional areas." 
Sunday Skating has enjoyed early success despite only being released last week, with the publishing rights having been sold in the United States and rave reviews from avid readers flowing in. 
"It's a book about believing in yourself and your abilities, and being brave," Ms Rowe said. "What I like to write with most of my kids' books is about tapping in to your skills but also supporting each other. 
"The difference with Sunday skating is it's a girl skater crew supporting a young boy, so it flips that gender element to show the strengths of girls in their abilities; which has been really well received by so many families. 
"I've got another book in two months called 'In the rock pool' which is a board book which has tapped in to the world of exploring rock pools in Port Fairy and Warrnambool growing up." 
Ms Rowe will also be joined by Rob McDonald and Olivia Coates to host a free community event at the Port Fairy Library on Saturday as part of the Port Fairy Literary Weekend from 10am. 
To register visit www.portfairyliteraryweekend.com.au. 
Most Popular