16 June, 2023
Close one for Blues
WITH eight wins on the board, including last weekend's victory over Panmure, Nirranda now sits second on the Warrnambool and District League ladder.
By Staff Writer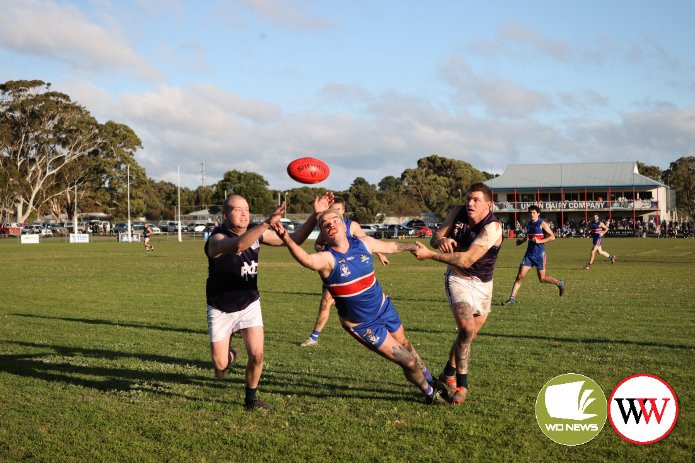 Round 10 proved a fruitful one for the Blues who came away with a well-earned, four-point win over the ever-improving Bulldogs. 
A first quarter burst by the Blues saw them finish the term with a handy 33-point lead, however, the home side kicked it up a notch in the second and made full use of the ball, adding five goals three to the board while keeping the visitors to just one behind. 
With only a point separating the sides going into the second half, spectators were treated to a tight contest all over the ground, with the Bulldogs adding 22 points and the Bulls 25 in the final two quarters. 
In a game which could have gone either way, the Blues finished on top 9.12.66 to 9.8.62. 
Best for Nirranda were Isaac Stephens, Jason Lee, Josh Irving, James Willsher, Luke Weel and Braden Poole while for the Bulldogs, Tyler Murnane, Rylan Rattley, Louis Kew, Zeke Reeves, Matt Colbert and Samuel Mahony were best. 
Other round 10 winners were Timboon over Dennington, Russells Creek over South Rovers, Merrivale defeated Kolora Noorat and Allansford were big winners over Old Collegians. 
In the reserves match at Panmure last weekend, the home side accounted for the visitors by 37 points, 10.6.66 to 4.5.29. 
Best for Panmure were Brandon Bant, Jacob Taylor, Thomas Sinnott, Ben Mahony, Jeremy Bidmade and Liam Allan while goal kickers were Shaun Griffin (3), Ben Mahony and Trae Reeves (two each), Jonathon Malone, Daniel Meade and Jacob Taylor. 
For Nirranda, Dermot Carlin, Brady Croft, Patrick Lee and Liam Loveday kicked a goal apiece. 
Best for the Blues were Lee, Jake Hards, Tom Rundle, Dermot Carlin, Beau Ubergang and Anthony Glennen. 
Tomorrow will see Dennington host Russells Creek, South Rovers will take on Kolora Noorat, Allansford will be home to Panmure, Timboon travels to Nirranda while Merrivale will host Old Collegians.
Most Popular