5 August, 2023
Gerard's dream comes true
AFTER 20 years of working in supported employment, Gerard Jansen is relishing his new job in a mainstream industry that he loves.
By Staff Writer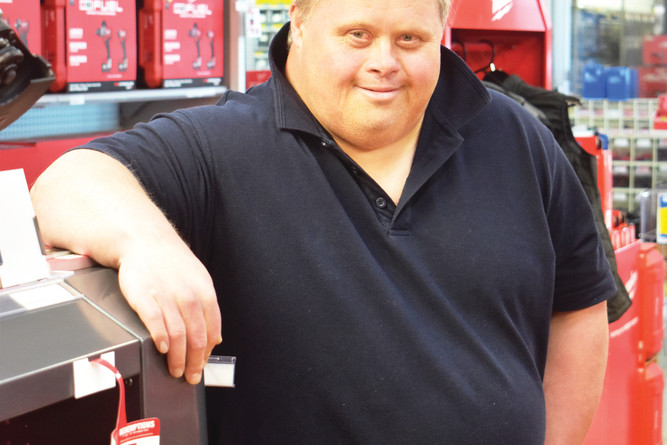 At 46, Gerard is realising his dream of working with like-minded people who enjoy the tools of their trade. 
With assistance from his Southern Stay support coordinator Bec Ryan, Gerard is now working at South West Tools and Industrial two mornings a week. 
Ms Ryan said Gerard, who has Down Syndrome, was loving the challenge and the working environment.
"My role as support coordinator was to listen to what Gerard wanted to be doing and provide options, whether that be mainstream employment or supported employment," Ms Ryan said. 
"Gerard felt that his supported job's hours were too long and he wanted a better work-life balance.
"Working long days five days a week was really tiring for him so he wanted to work less hours but be in a field that he enjoyed." 
Ms Ryan approached gforce which set up an interview and trial at South West Tools and Industrial and Gerard got the job.
"Now he works two short days and is able to use his other supports for the rest of the week to do things he wants, such as playing cricket. He's got the work-life balance that he wanted and looks forward to going to work."
Gerard was previously working in a different field. 
"He really liked the idea of working with tools and with `the boys'," Ms Ryan said. 
"It's what he's always wanted to do." 
Gerard undertakes a variety of roles, from helping with deliveries and stocking the shelves to cleaning. 
"I like my work buddies and it's good to have a job I like," he said. 
South West Tools and Industrial owner Pat Lane said Gerard was proving to be a valuable and popular staff member. 
"We were keen to help someone who wanted to learn more about working with tools so we came up with this position for Gerard," he said. 
"It works well for us and for Gerard." 
Most Popular