18 October, 2023
Melbourne Cup trophy on tour
THE running of the 2023 Lexus Melbourne Cup will have a special meaning for many lucky residents across the region who had the chance to take a close look at the winners' trophy late last week.
By Staff Writer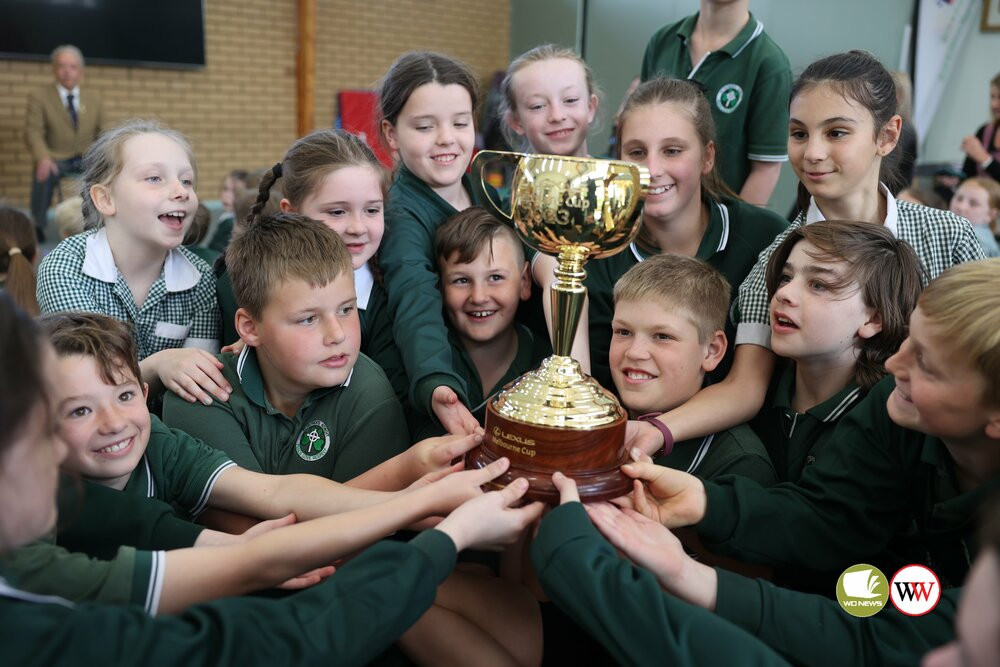 The prestigious Cup toured the region on Thursday and Friday thanks, in large part, to the Koroit Lions Club. 
Included in the tour was a visit to St Patrick's Primary School Koroit on Friday, much to the excitement of students and staff. 
"Our students were totally captivated by the visit and we thank Jim (Madden) from the Lions Club for coordinating the visit," school principal Nick Murrell said. 
"The children had an amazing time getting up so close to the Cup and the experience was made even more special having former student Des Gleeson (VRC Ambassador) come and speak with them about the significance of the Melbourne Cup trophy and the race that stops the nation." 
Students were also treated to a talk from VRC chief historian Dr Andrew Lemon and were able to ask many questions about the history of the trophy and the event. 
The cup also toured Port Fairy last Thursday, with stops at both St Patrick's Primary and Port Fairy Consolidated schools, along with a visit to the aged care facility and an evening at the Green (with guest of honour, former Olympic bronze medallist and Port Fairy resident Judy Pollock). 
A brief stop was also made at the cricket club along with a visit to the home of former jockey Pat Ryland, winner of the 1985 Melbourne Cup with his ride 'What a Nuisance.' 
The cup was welcomed to town by deputy mayor Cr Daniel Meade. 
"It's a thrill to have the cup in Moyne," Cr Meade said. 
"Congratulations to the volunteers who made this happen today."
Most Popular