21 April, 2023
Motorists urged to report damage
SOUTH West Coast MP Roma Britnell has launched a new web portal encouraging members of the community to report damage south west roads have caused to their vehicle.
By Staff Writer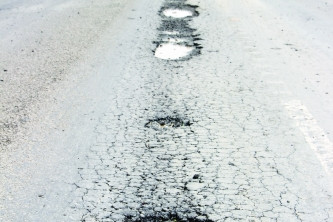 The 'Report a Road' web portal, attached to Ms Britnell's website, calls on the community to submit evidence of damage their vehicles have sustained on south west roads. 
 "Victorian roads are crumbling due to Labor's neglect and mismanagement," the site reads. 
"These terrible roads are damaging your vehicles and many people are contacting me to complain about the costs incurred as a result," the web portal states. 
"I need your evidence. Send me your costs and a photo of the damage so I can take it to the Premier. 
"I will continue to hold Daniel Andrews and Labor accountable for the dangerous roads and the damage they are causing to our vehicles." 
The launch of the web portal comes after Ms Britnell has prioritised the state of roads in the South West Coast this year as the Victorian Budget looms. 
 She has spoken on the state of roads during most Victorian Parliament sittings this year and has repeatedly called on Premier Daniel Andrews and Minister for Roads and Road Safety Melissa Horne to visit the region and experience the roads first hand. 
Ms Britnell said she had been an advocate for action to be taken on roads for years, calling for better road maintenance and repairs. 
She has arguing aging infrastructure was a major safety hazard for motorists, and damage arising from the sub-standard state of roads was a significant drain on household and business budgets due to the cost of vehicle repairs. 
"'Report a Road' is a crucial tool for South West Coast residents to hold the Andrews Government accountable for maintaining the Victorian road network," 
Ms Britnell said. "Our roads are in a terrible state and it's time the Andrews Labor Government did something about it. 
"The damage details provided by 'Report a Road' is one way we can embarrass Daniel Andrews into action." 
The 'Report a Road' webportal may be accessed at https://romabritnell.com.au/report-a-road/.
Most Popular