19 May, 2023
Orford and district table tennis
NEW windows in the Orford Hall, which allow moonlight in, may help players see the ball better – and they certainly improve the look of the hall.
By Staff Writer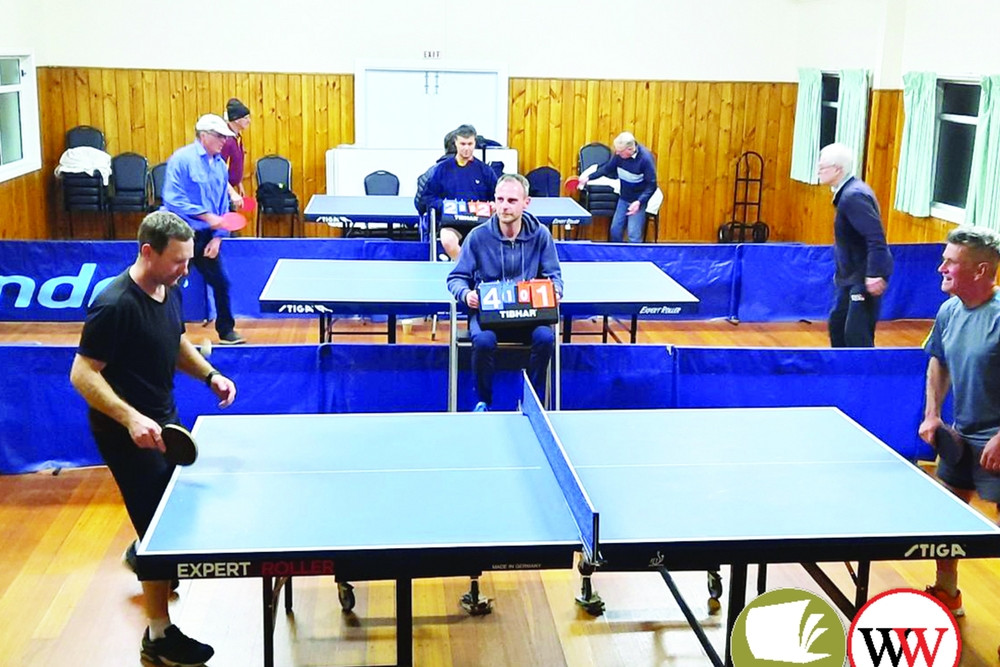 The installation of LED lighting used fully last season made a big difference to playing and general use of the hall. 
Warrnambool Vikings are now a game clear on top of the ladder with Attunga, Warrnambool Warriors and Port Fairy rounding out the four. 
 Glengleeson jumped from last to sixth with their win this week. Either Orford or Tarrone will open their accounts next week when they play each other. 
In week five, Warrnambool Vikings are expected to bring to an end Port Fairy's winning run. Orford versus Tarrone should be a close 6/5 encounter; much will depend on player availability for Orford and either teams' ability to win one or both the doubles rubbers. 
Predictions are a victory to Orford, if Russel Hussey can defeat David Warhurst, if not Tarrone will win Myndarra will face Glengleeson. Myndarra, led by Aaron and Ally Rowbottom, should be too strong for Glengleeson without the Drendel combination. 
Warrnambool Warriors versus Attunga will be the battle for second spot on the ladder, with the loser relegated to third. 
Patience will be the name of this encounter! 
Don't expect this match to finish before midnight as both sides can play the long game, not only extended game points but five game rubbers too. 
Even the points can go so long that the watchers are either hypnotised or gone to sleep. 
In their last encounter in 2022 Warriors took the points 6/5, previous Attunga had the upper hand. Both Warriors - Peter Owen and Neil Ford – will need to win their three rubbers, or the Wortley family will come out winners. Results from week four: 
Attunga lost to Warrnambool Vikings 3.11/8.27. 
 Warrnambool Vikings' Rehan Icbal and Dom Angarano both won their three rubbers. Dom had to withstand a long rubber before defeating Val Wortley 12/10, 5/11, 9/11, 11/8 and 11/8. By winning both doubles, 
Vikings rounded out the win. Port Fairy defeated Orford 7.20/4.16. Orford's Russell Hussey won his three rubbers (it's that new bat) while all of Port Fairy won two rubbers each in a night where only three games went past the mandatory 11 points and only two rubbers were extended. Glengleeson defeated Tarrone 6.23.363/5.16.330. 
Going into the last rubber at 5/5 Glengleesons' Gareth Spring defeated Steven Young from Tarrone to take the four points for the night. David Warhurst (Tarrone) won his three rubbers after being challenged by Gareth in a five-game rubber 11/3, 11/8, 3/11, 11/13 and 11/8. 
 The game points indicate why this was a close night; four rubbers extended, many games also long, 14/12 being the longest. 
Both Gareth and Bill Lyon won two rubbers, while John Homan after a six-year absence also won a rubber. 
Tarrone's Steven Young won a rubber and teamed to win a doubles. Myndarra lost to Warrnambool Warriors 4.13/7.24. 
All Warrnambool Warriors players won two rubbers while Aaron Rowbottom (Myndarra) won his three rubbers. 
Both Neil Ford and Marshall Worthington challenged Aaron, taking him into the fourth game of their rubber. Marshall found it particularly hard trying to pick the spin/slice Aaron is able to produce on the table tennis ball. 
Unofficial ladder: Warrnambool Vikings 16 points, 34 rubbers, 109 games; Attunga 12, 31, 101; Warrnambool Warriors 12, 26, 89; Port Fairy 12, 23, 80; Mydarra 8,19, 63; Glengleeson 4,13, 51; Tarrone 0, 16, 58; Orford 0, 14, 52. 13 and under – Allansford defeated South Rovers 25-6.
Most Popular