2 November, 2023
Rally gathers to protect our oceans
DESPITE Sunday's cool and blustery conditions along the Warrnambool Breakwater, a large crowd gathered to voice their concerns over proposed seismic blasting in coastal waters along the Great Ocean Road.
By Staff Writer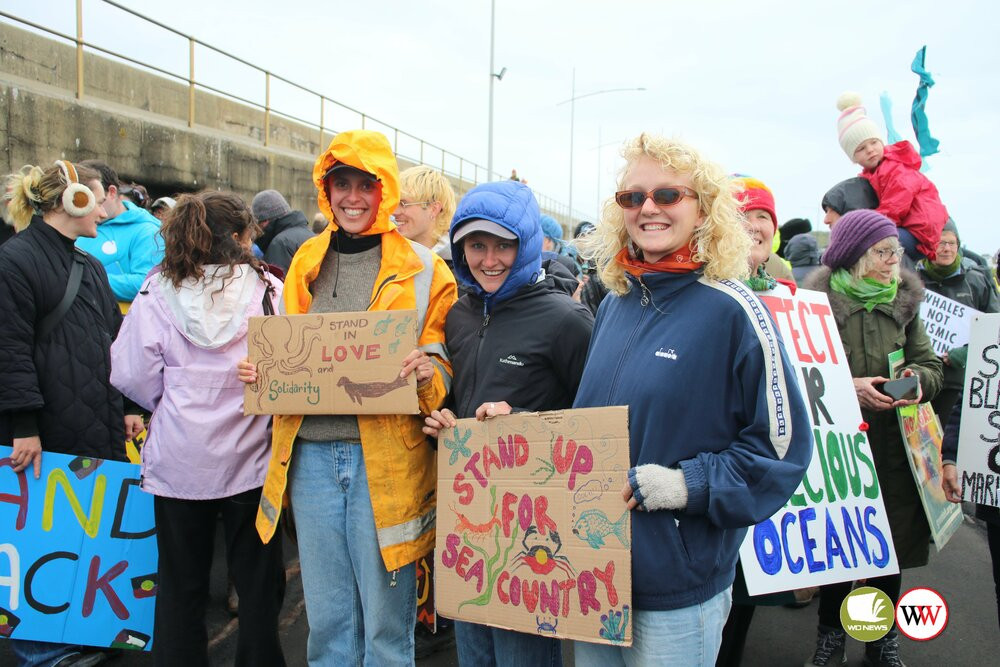 The Gunditjmara-led Southern Ocean Protection Embassy Collective (SOPEC) were joined by a large contingent of supporters from across the south west – many carrying placards and some dressed as colourful marinelife – all eager to voice their concerns. 
A proposal to conduct seismic blasting in coastal waters spanning the length of the iconic Great Ocean Road coastline and beyond, across the whole of Gunditjmara sacred lands and sea country, has been met with opposition from several local community members along with marine biologists, environmentalists, First Nations groups, fishermen, swimmers and surfers.
The seismic blasting is commonly used to identify resources beneath the ocean floor, blasting powerful sound waves that have been shown to negatively and harshly impact marine ecosystems. 
Gunditjmara Whale Songline custodian, Yarran Couzens Bundle, led the fight to protect Sea Country in Warrnambool this weekend. 
The protest comes just four years after Warrnambool came out in record numbers to support the successful Fight for The Bight campaign, which saw the Norwegian oil and gas giant, Equinor, withdraw from the area. 
"Seismic blasting companies are not genuinely engaging with or understanding traditional custodians and their deep reciprocal kinship relationships with Sea Country," Yaraan Couzens Bundle, Gunditjmara woman and Whale Dreaming Custodian said. 
"Traditional owner consultation is never about if a project goes ahead, only how and when.
"Consultation is not consent. In Gunditjmara country, seismic blasting can never coexist peacefully with ancient living creation Songlines and our sacred traditions."
According to Ms Bundle, no environment plan, put forward by any company, can truly measure the irreversible damage done by seismic blasting and then drilling into the ocean floor. 
"Many significant Southern Ocean species from the plankton families, including the southern rock lobster to other species like the short-finned eel and southern right whales, have been blatantly dismissed and their rightful place in their own habitats is shown to come last for consideration." 
Most Popular