14 April, 2023
Roosters topple Saints
CROWDS flocked to Victoria Park for the Good Friday blockbuster between Koroit and South Warrnambool.
By Staff Writer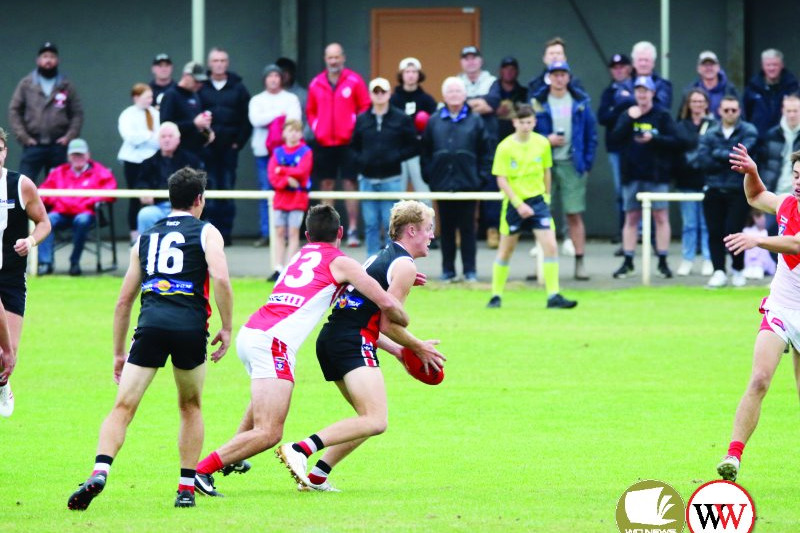 As the skies cleared, the Roosters took an early hold on the game, restricting the reigning premiers to just three majors, going into the main break with a handy 37-point lead. 
The third term proved a low-scoring affair, with the ball swinging from end to end; the Roosters adding just three points to the board while the Saints managed one behind. 
In the final term, the Roosters again picked up momentum and managed four majors while restricting the Saints to just two behinds. 
Final scores were South Warrnambool 13.6.84 to Koroit 3.4.22. 
Best players for the victors were Will White, Shannon Beks, Myles McCluggage, Sam Kelly, Jonah Maher and Jack Dye. 
Will White was the leading goal scorer for the Roosters with six to his name. 
He was well supported by team-mates Sam Kelly (3) and singles to Shannon Beks, Jack Dye, Myles McCluggage and Flynn Wilkinson. 
Best players for the Saints were Jamie Lloyd, Mac Petersen, Thomas Baulch, Clem Nagorcka, Will Petersen and Tate Waterson. 
Goals went to William Couch, Jamie Lloyd and Jayden Whitehead.
In the reserves match, the Roosters toppled the Saints by 46 points, 10.11.71 to 4.1.25. 
Best for the Saints were Jakob Linke, Scott Twycross, Jake McCosh, Levi Nagorcka, Luke Moutray and Billy Johnson while for the Roosters, Xavier Farley, Walker Owen, Josh Folkes, Xavier Mitchem, Shaun Lucas and Henry Walker were best. 
Goals went to Levi Nagorcka (2), Matthew Bradley and Jakob Linke for the Saints, while Henry Walker booted three for the Roosters, supported by team-mates Josh Folkes (2), Stuart Brown, Xavier Farley, Daniel Hawkins, Patrick Kluver and Walker Owen. 
The Roosters enjoyed victory in the under 18.5s, taking the win 9.10.64 to 4.4.28.
Best players for the Saints: Harry Noonan, Braedyn Ross, Dylan Shircore, Jesse Suter, Sutha Hawkins and Strahan Robinson. 
Best for the Roosters: Bailey Osborne, Mitchell Wollermann, Oliver Smith, Darcy Bridgewater, Callum Leahy and Henry Rhodes. 
Goal kickers: Saints – Zaine Atkins (3) and Strahan Robinson; Roosters – Bailey Osborne (2), Henry Rhodes (2), Darcy Bridgewater, Ryan Lucas, Joe Madigan, Danelle Perera and Mason Porter. 
Netball results were as follows: Open – South Warrnambool 60 defeated Koroit 30. 
Best players: South – Hollie Phillips, Ally Mellblom and Isabella Rea; Koroit – Layla Monk, Nell Mitchell and Shelby O'Sullivan. 
Division one – South Warrnambool 40 defeated Koroit 28. 
Best players: Koroit – Rachael Grath and Vanessa McLaren; South – Chelsea Quinn and Mellissa McKenzie. 
Division two – Koroit 47 defeat South Warrnambool 36. 
Best players: Koroit – Aleisha Mugavin, Louise Brown and Ella Lewis; South – Emily Veale, Bridie Moloney and Frankie Butters. 
Division three – South Warrnambool 40 defeated Koroit 30. 
17 and under – Koroit 36 defeated South Warrnambool 23. 
Best players: Koroit – Scarlett O'Donnell and Shelby O'Sullivan; South – Grace Schrama, Ailish Murfett and Ashlyn Whelan.
17 and under reserves – South Warrnambool 33 defeated Koroit 23. 
Best players: Koroit – Zara Welsh; South – Lila Wilkinson, Matilda Stevens and Annabel Thornton. 
15 and under – Koroit 27 defeated South Warrnambool 15. 
Best players: Koroit – Majella Dobson and Rosie Bowman; South – Stella Marris, Lila Evans and Chloe Madden. 
13 and under – Koroit 35 defeated South Warrnambool 11.
Best players: Koroit - Harper McInerney, Elsie Finnigan and Charlotte Smedts; South - Eleanor Bussell, Chloe Kermeen and Maya Veale.
Most Popular