12 October, 2023
Run for a cause
WARRNAMBOOL teacher Steven Guthrie hopes to raise funds for the Epilepsy Foundation by running in the 2023 Nike Melbourne Marathon this month.
By Staff Writer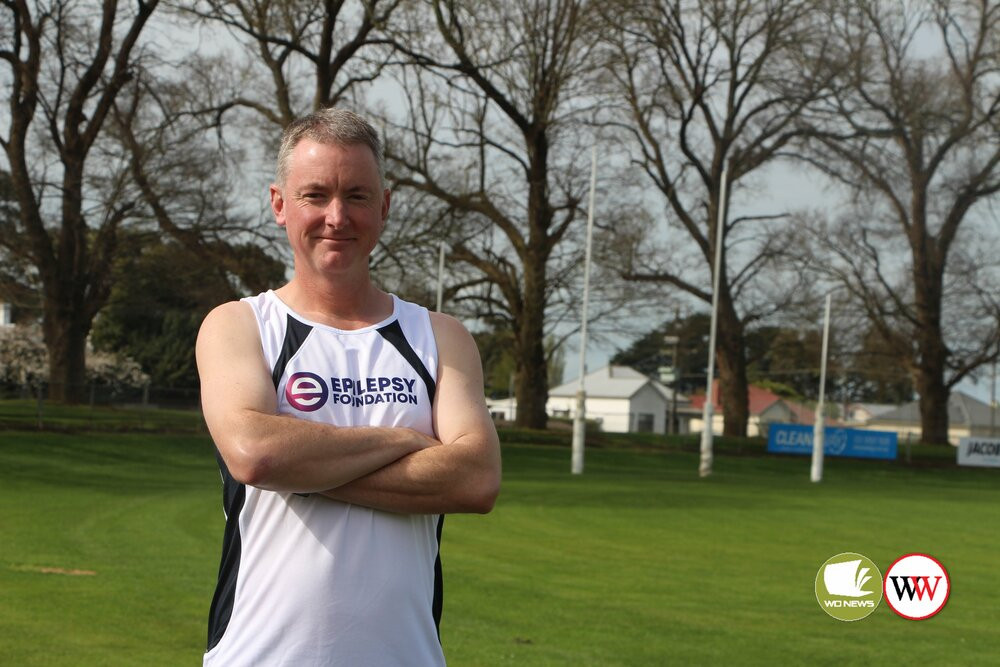 The cause holds significant meaning for Mr Guthrie, a teacher at St Joseph's, after a lifetime of struggling with epilepsy.
"It's something I've grown up with; I've had it since I was around nine months old," he said. 
"That all started from having meningitis at that age." 
The seizures did not subside as he grew older. 
The severity of the episodes grew "stronger and stronger" and the effectiveness of the medication began to decline. 
In 2017 he made the decision to undergo a risky brain surgery in pursuit of a better life. 
"It was the only option in the end," Mr Guthrie said. 
"You either learn to live with it, knowing you will have seizures three times a week, or you risk having the surgery and get rid of it. 
"I was averaging three seizures a week, but one day I had nine." 
In preparation for surgery he began to place a higher priority on his physical health through regular exercise; most notably, running. 
"It convinced me to get as much physical fitness as possible to help with my recovery and prepare myself to have the surgery done, Mr Guthrie said. 
"I lost 28 kilograms to prepare myself that year, and ever since I have kept up my physical fitness. 
"I've had a love for running, and I've just continued with it." Mr Guthrie went under the knife, and despite a gruelling rehabilitation period and a scary moment he has come through the other side with a quality of life he had not known in decades. 
"I was trialled off medications in 2018," he said. 
"In late 2019, pretty much exactly 12 months afterwards, I had the biggest seizure of my life. 
"But it was easy to get around it and get back on the medications as it was.
"That was the last seizure I've had so it's getting close to five years seizure free now." 
The preparation Mr Guthrie had put in to his physical health prior to brain surgery has had almost as big of an impact on his life as the surgery itself. 
He has continued running, to such an extent he built the confidence and ability to take part in the Great Ocean Road Running Festival. 
"What they encourage you to do is tell a story when you register," he said.
"I told them all about (my epilepsy) which turned in to an interview, and the Epilepsy Foundation got a hold of it.
"That's when I was convinced I wanted to speak up about it." 
Mr Guthrie said he wanted to speak out to increase the visibility of the condition, which impacts around 250,000 Australians.
He was further inspired when former Richmond premiership winner, coach and administrator Neil Balme this month went public with his own struggle with epilepsy. 
"He's going through the same thing so it's good to see people speaking up about it and raising awareness," Mr Guthrie said.
"Being a teacher, I have taught kids with epilepsy, and parents and family have been really happy I've been there teacher because I understand what they are going through. 
"Raising awareness is encouraging; for people like myself for for those who have experience be that through a family or friend. 
"It makes it part of a norm in our society." 
With his next marathon in sight, the 2023 Nike Melbourne Marathon, he resolved to raise funds for the Epilepsy Foundation through an online fundraising campaign. 
"I'm pretty excited about the marathon because it's one of those ones where you finish inside the Melbourne Cricket Ground, so it's a bit of a dream," he said. 
He specialises as an Emmett therapist, a form of therapeutic massage developed in Australia which uses light touch to relax muscles to relieve tension and discomfort. 
"It's a part of the journey for me," he said. 
"As well as being a teacher I am also an Emmet therapist, being able to identify where players need relaxation with their muscles and tendons. 
"It's about getting the players fit and ready to play again, and I've got my own side business too which has been great to get me outside of the classroom. 
"I love teaching but I'm 20 years in to it so I've begun thinking about what I can do when I retire, which is way down the track, but it's good to have something to fall back on. 
"Getting in to the physical side of things was a natural fit; my journey with epilepsy has always had me interested in how the body works and how the brain works." 
The 2023 Nike Melbourne Marathon will be held on Sunday, October 15. 
If you would like to donate to Steven Guthrie's fundraiser visit
https://melbmara2023.grassrootz.com/epilepsy-foundation/steven-guthrie.
Most Popular