21 April, 2023
Saints return
REIGNING premiers Koroit returned to the winners' list last weekend, with a 99-point win over Portland.
By Staff Writer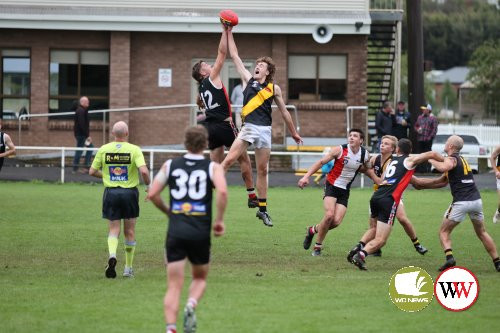 Coming off two consecutive losses – the first in round one against Cobden and the second, played against the Roosters on Good Friday – the Saints were keen to get some points on the ladder and went in to last weekend's game with added incentive. 
The home side gave spectators plenty to cheer about from the first bounce, making good use of the footy and taking advantage of turnovers. 
Jack Block, Thomas Baulch, Paddy O'Sullivan, Liam Hoy, Jyron Neave and Clem Nagorcka were among the best for the home side, while for the visitors Jake Wilson, Toby Jennings, Josh Edwards, Daniel Falcone, Karsen Edwards and Harry Kerr were regular contributors. Final scores were Koroit 20.11.131 to Portland 5.2.32. 
Goals for the home side went to Jyron Neave and Paddy O'Sullivan with four each, Liam Hoy (3), James Cow (2), Mac Petersen (2), Nathan Rentsch (2) and Taylor McKenry. Earlier in the day, the Saints' reserves side set the momentum for the day with a 40-point win over the Tigers, 11.11.77 to 5.7.37. 
Matthew Bradley (four goals), Samuel Marsh, Kyle Moloney, Josh Purcell and Jesse Farley were stand-outs for the Saints while for the visitors, Toby Oakley, Zac Stuchbery, Nathan Valori, Sharn Robinson, Hayden Annett and Will Oakley were among the best. 
 On the netball courts at Koroit, player unavailability forced Portland to forfeit its open grade clash with the Saints. 
Other results from the day's play included: Division one – Koroit defeated Portland 58-27. 
Division two – Portland defeated Koroit 35-32. Division three – Koroit defeated Portland 39-25. 
Junior results were as follows: 17 and under – Koroit defeated Portland 57-20; 15 and under – Koroit defeated Portland 33-9; 13 and under – Koroit defeated Portland 37-6. 
In other round two Hampden League senior football matches, the Roosters enjoyed a 75-point win over Camperdown, Cobden outclassed Hamilton by 116 points, the Blues were 16-point victors over the Seagulls and Terang Mortlake finished 62 points on top of the Eagles. 
Most Popular