31 August, 2023
Success in the pool
TWELVE-year old Warrnambool Swimming Club star Eli Kerr has brought home a swag of medals from last weekend's Victorian Short Course Country Swimming Championships.
By Staff Writer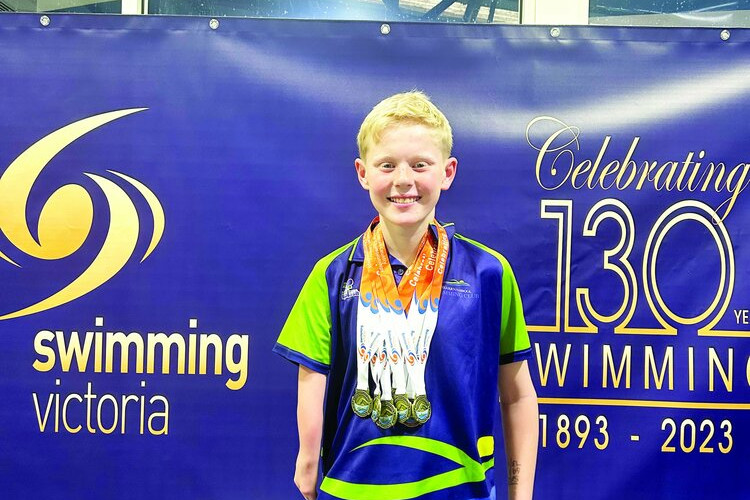 The talented teen from Newfield continues to dominate in the pool, bringing home six gold and one bronze medal from the Wangaratta meet. 
Despite his young age, Eli often finds himself competing against (and beating) grown men in the multi-class division.
"Usually at these championships (like last weekend) the multi-class is an open men's event but Eli isn't bothered," his proud mum Nicole said. 
"He has been swimming competitively with the Warrnambool club since he was nine so to achieve this in a relatively short space of time is pretty special we think." 
The six individual gold medals were won in the 50m freestyle, backstroke, breastroke, butterfly and 100m individual medal and freestyle events. 
Eli also took out bronze in the able-bodied para 4x4 freestyle relay in the open division.
His success is reward for the countless hours spent in the pool, swimming laps under the watchful eye of the coaching staff at Warrnambool. 
"Eli does one afternoon training session each week but he also does two early morning sessions which means he's up at 4.30am and trains from 6am-8am," Nicole said.
"My husband Andrew takes Eli to Warrnambool each morning and I do the afternoon shift. It's certainly a family commitment but we all really enjoy it. 
"His older brother Ronan, 15, also swims and is competitive as well. Both boys love their swimming." 
Warrnambool Swimming Club coach Josh Sobey said he was "thrilled" with the performance of club members last weekend.
"We had about 44 swimmers represent our club and we finished fifth overall on points which was amazing," Sobey said.
"More than 80 personal bests were recorded over the two days which is an achievement in itself.
"These are all great signs for the future of our swim club and I couldn't be prouder." 
Most Popular