23 June, 2023
Tigers dominate
IN a top versus bottom clash last weekend, Merrivale had a percentage boosting 94-point win over Old Collegians.
By Staff Writer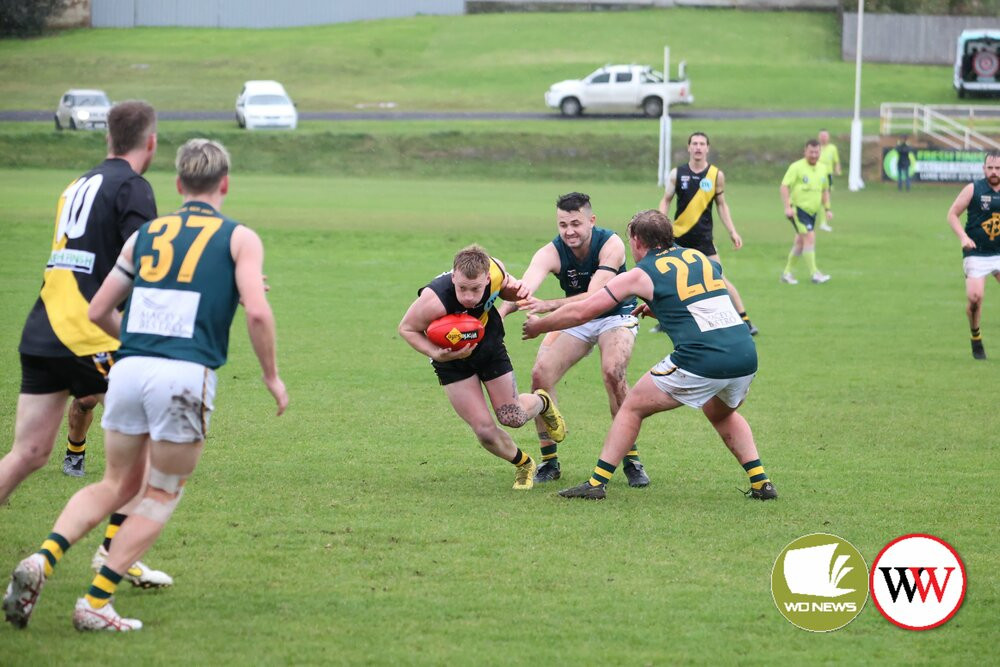 The round 11 match-up saw the Tigers move two games clear of second-placed Nirranda on the Warrnambool District ladder. 
The Tigers showed its dominance from the first bounce, making good use of the ball in its forward 50 while restricting Old Collegians to just one major for the first half. 
Going into the third quarter with a handy 51-point lead, the home side added another five goals to the board while the Warriors managed two majors. 
The final term was a one-sided affair, with the Tigers kicking six goals to the Warriors' one. Final scores were Merrivale 19.11.125 to Old Collegians 5.1.31. 
Best for the Tigers were Tate Porter, Jayden Brooks, Jalen Porter, Sam Gleeson, Jack Gleeson and Hamish Gurry while for the Warriors, Samuel Walker, Jacob Dunne, Harry White, Declan Gleeson, Connor Barby and Jacob Brooks performed well. Nathan Krepp, Dylan Weir and Jye Wilson all booted four goals for Merrivale and were well supported on the board by Hamish Gurry with two and singles from Bradley Bell, Jayden Brooks, Oliver Doukas, Tate Porter and Colby Rix. 
For the Warriors, Jacob Dunne kicked two and Connor Barby, Bailey Brooks and Timothy Lewis kicked a goal apiece. 
Merrivale's reserve side held on to second spot (just half a game above Panmure) with a percentage-boosting 124-point win over the Warriors. Final scores were Merrivale 18.18.126 to Old Collegians 0.2.2.
Charlie McDonald had a strong day in front of goals, kicking four for the Tigers, and was well supported by team-mates James Barling, Lachlan Hinkley and Billy Rock with three goals apiece, Jordan Musico (2) and one each from Emanuel Andrawos, James Fary and Joseph Lenehan. 
For the Warriors, Elijah Dawson, Tom Mahony, Rory Broswell, Beau Williams and Jack Taylor were named in the best. 
Tomorrow's round 12 matches will see Kolora Noorat host Dennington, Old Collegians will face South Rovers, Panmure will host the Tigers, Allansford will travel to Nirranda and the Timboon Demons will be at home to Russells Creek.
Most Popular