2 August, 2023
Tigers set benchmark
WITH just three rounds of the home and away season remaining, Merrivale looks likely to head into the finals series undefeated.
By Staff Writer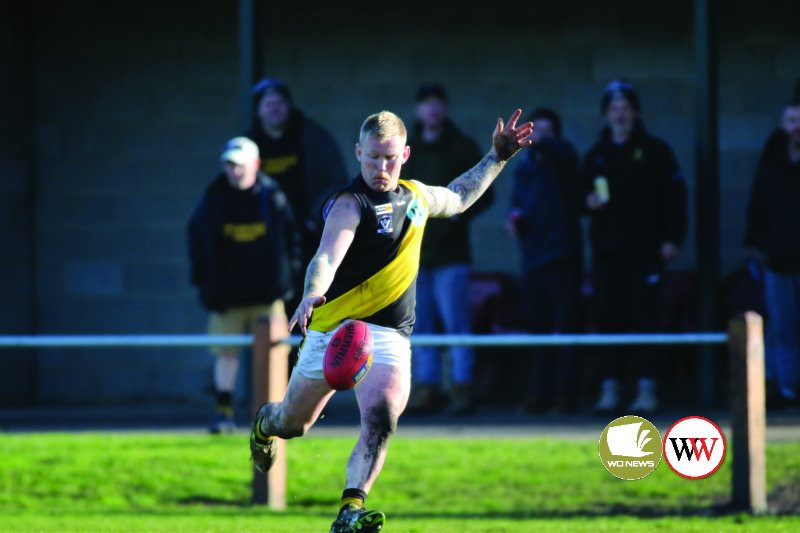 The Tigers sit comfortably on top of the Warrnambool District ladder, three games clear of their nearest rivals, Nirranda, in second. 
The Tigers will host eighth-placed South Rovers this weekend before travelling to Dennington (seventh) for round 17 and ending the home and away season with a home game against the fifth-placed Russells Creek. 
Round 15 last weekend saw the Tigers enjoy a percentage boosting 120-point win over the Timboon Demons. 
The Tigers kicked 18.12.120 while keeping the visitors scoreless for the day. Nathan Krepp kicked four, while Jack Neave and Tate Porter contributed three each. 
Other goal kickers were Zade Neave (2), Dylan Weir (2), Jye Wilson (2), Matt Heusler and Manny Sandow. 
Among the best for the victors were Porter, Tyler Stephens, Oliver Doukas, Jalen Porter, Krepp and Angus Campbell. 
In other round 15 matches last weekend, Nirranda were big winners over Dennington, Allansford defeated South Rovers by 69 points, Russells Creek hung on for a two point win over Panmure and Kolora Noorat enjoyed a 126-point win over Old Collegians. 
Round 16 of the Warrnambool District League tomorrow will see the Cats host Dennington, the Tigers will be at home to South, Russells Creek will travel to Nirranda, Panmure will take on Kolora Noorat at home while Old Collegians will travel to Timboon to take on the Demons.
Most Popular