19 May, 2023
Turning heads
IT'S not every day you see two miniature donkeys walking down the main street of a small country town….unless you're in Panmure.
By Staff Writer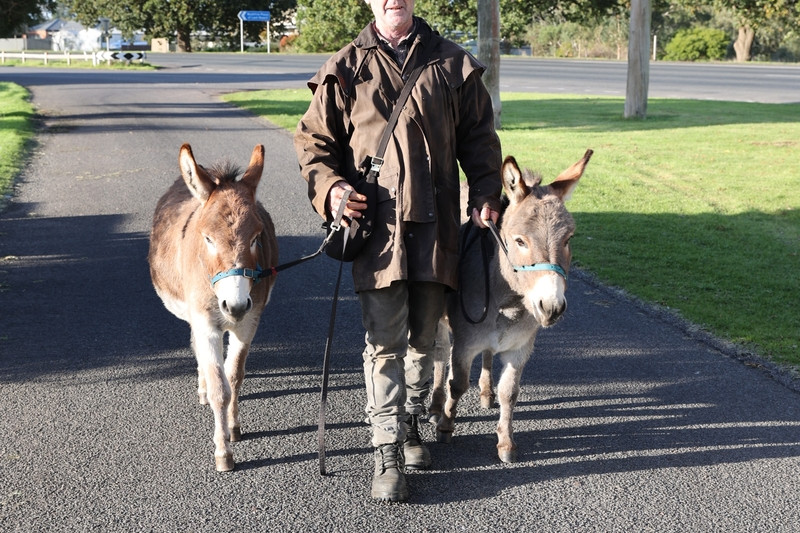 On an almost daily basis, local Terry Lane walks his two pet miniature Mediterranean donkeys Basil and Baxter – turning heads and slowing traffic as motorists "take a second look." 
The trio can often be seen walking along the side of the highway, enjoying the fresh air and, more often than not, being stopped by passers-by. 
"Quite often people drive by, notice us and then do a u-turn and come back for a pat and a chat," Terry said. 
"I guess it's not every day you see donkeys going for a leisurely walk – unless you're here in Panmure." 
Terry and his wife Sharon, who also own two alpacas fondly named Charlie and Marley, have been the proud owners of Basil and Baxter for more than two years. 
"Sharon saw an ad with a photo of Basil so we went and had a look," Terry said. 
"Basil was at Green Hills, out the back of Penshurst, and we both just fell in love with him. 
But he needed a mate so we got searching and it was only two months later that Baxter arrived here in a horse truck from Glenrowan.
 "They've fitted in really well with our alpacas at home and I walk them around town most nights. It's good for them, and for me. 
"It's amazing how many people stop to have a pat and want to know all about them. They're very sociable animals." 
Living off pasture hay and oaten hay – and the odd carrot as a treat – Basil and Baxter seem right at home when in the spotlight. 
"They love all the attention." 
Most Popular