14 April, 2023
Watson shines at Gift
WARRNAMBOOL College pro athlete Layla Watson has finished a remarkable 5th at last weekend's 2023 Powercor Stawell Gift Easter carnival.
By Staff Writer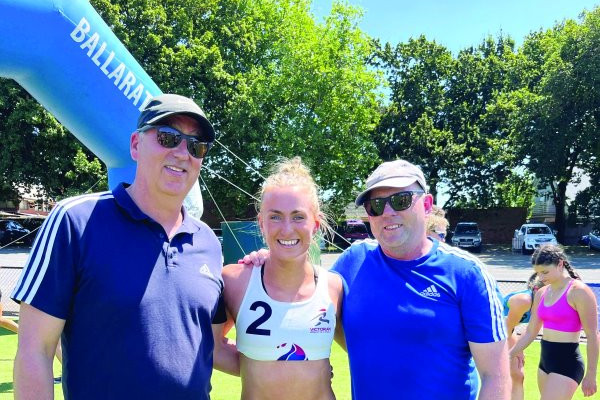 With a handicap of 8.75m Layla was ranked a good chance of making the final of the 'Change Our Game Womens Gift' following her wins at the Warrnambool Gift, Ballarat (70m) and the Beachside Gift (400m) earlier this season. 
Following an injury-prone 2021/22 season, Layla was hungry for success this year and went to Stawell keen to make her mark. 
"I was absolutely thrilled just to make the final but to finish fifth overall; I was stoked," the 17 year-old said. 
"As a young child I ran little aths races at the Gift and it was always a dream to run in a women's final." 
While stress fractures in her foot limited her running last season, Watson said she managed to enter last year's Gift just a short time after having a moon boot removed. 
"I'd had a moon boot for about six weeks and when that came off I was able to get in enough training to enter last year's Gift," she said. 
"I knew I wasn't going to be amazing but I was just happy to get a run in. This year I was keen to do my very best and I just went out there wanting to run fast. 
"And I did. I won my heat and the semi so to line up for the women's final was amazing. My family and my training team were all there to spur me on which was so exciting."
Watson acknowledged the history surrounding the Gift and said she felt honoured to now be a part of that. 
"Stawell has such a long history with so many fantastic runners who have achieved amazing things over the years," she said. 
"Almost every runner has stories to tell about running at Stawell. It's a runners' grand final." 
From Grassmere, Layla trains with the DPS Stable in Warrnambool under the guidance of her long-time coaches Wayne Perry and Rob Duynhoven. 
"I love the atmosphere of pro running and our squad has grown over the years to become my second family," Watson said.
"With the running season now done, I'll take a short break and then get back into training in preparation for the start of the season again towards early October. 
"I'm always aiming to better my times, especially in the 400m which is my favourite event – my PB is 55.09 seconds." 
It appears the 'fast running genes' also extends to Watson's brother, Aubrey. 
The 16 year-old finished fourth in the final of the open men's Bill Howard Handicap over 100 metres at last weekend's Gift.
Aubrey will compete in this weekend's national titles in Brisbane where he has entered both the 100m and 200m events – and his proud sister will be there to spur him on. 
"It's great that we both share a love of running," Watson said. 
"Our parents aren't really runners but they'd both claim we get our abilities from them!"
Most Popular